Internationalization at home
Since the winter term 2020/2021, htw saar offers a new, completely revised International Business bachelor study program. The six semesters, including a study abroad at one of htw saar's partner universities, are completely taught in English. Besides courses in general business administration, law and economics the students can specialize in International Marketing, International Accounting & Reporting, and International Logistics.
Having profited from the experience in online teaching from the previous semester, the new International Business program commenced effortlessly online in October 2020. The new circumstances of teaching made it possible for Dr. Daniel Shim, a professor from the John F. Welch College of Business and Technology at Sacred Heart University in Fairfield, Connecticut, USA, to teach the Cost Accounting course to the first-year students. From his office in Connecticut, he met with the students for weekly sessions via MS Teams and was supported by Charlotte Risch, an MS in International Management student at htw and teaching assistant to work with Moodle and the administration.
"Exciting, New and Challenging but Fun-teaching and Fun-learning Experiences."
For everybody, these online lectures given over 6,000 km apart provided new paradigm in higher education. Until now , Dr. Daniel Shim has neither taught freshmen, let alone taught in Germany, though he taught over 20 years for Luxembourg Welch College of Business MBA students and over thirty years of teaching US other country Junior/Senior and MBA students.  He said, "giving online lectures in cost accounting for first year htw saar students was an exciting, new and challenging but fun-teaching and fun-learning experiences." Dr. Shim told me he really enjoyed teaching and "I would love to continue teaching cost accounting at htw saar in the future", he answered enthusiastically, when asked whether he could see himself to continue teaching in the International Business program next year. Dr. Shim also expressed sincere appreciations to Dr. Garnjost for inviting and giving him an opportunity to teach Cost Accounting. He feels he can enhance his teaching by a blended format – being at the campus a few weeks to get to know the students and delivering substantial portions of lectures and then teaching the rest of the semester online back from the US.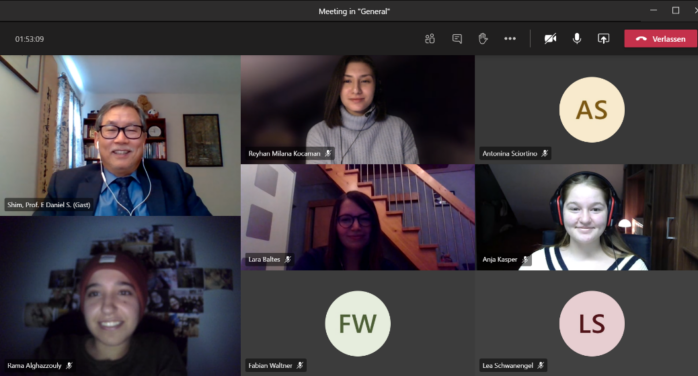 "Dr. Shim Made Them Feel Welcome and Kept the Lessons Exciting by Inviting Guest Speakers."
The International Business students cherished this international experience right from the beginning. The challenges of getting used to Dr. Shim's accent and the slightly different teaching style, were quickly overcome. The students particular enjoyed the more informal and personal communication between lecturer and students. He made them feel welcome and kept the lessons exciting by inviting guest speakers. Further, he even included a little "dance break" in his lectures where he turned on some music and the students could dance or simply relax a few minutes until they continued with cost accounting topics. Same as Dr. Shim, the students would love to repeat this international experience at home even once the Corona pandemic is over. They can imagine having (online) lecturers from abroad every semester because it fits the international context of their study program and they appreciate learning more about foreign cultures and business habits.
(Prof. Dr. Petra Garnjost, Charlotte Risch)